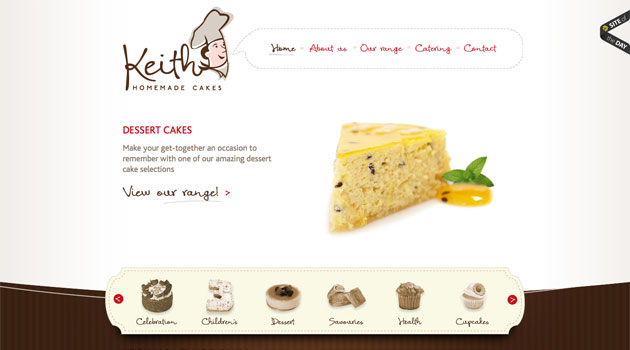 We always receive questions about good web design, and what it looks like. So we decided to start a new series of posts, our Friday Favourites! Showcasing what we believe is the best web design around the world...
About Keith Homemade Cakes
"Established for over 50 years, Keith Home Made Cakes still delivers a range of speciality cakes that is ideal for entertaining guests, a family treat or a little self indulgence. Our full team of chefs and friendly staff take pride in providing attentive service while discussing your needs for your special cake. While small we are big in service and satisfaction."
View Keith Homemade Cake's Website
What We Love About Their Website
Once again, it blows me away to see what people can do! What a beautiful site. It's perfectly designed to their business, and you just get the bakery feel when looking at the site.
The homepage slide show has some beautiful high quality images that just make my mouth water. If I was located in Australia, I would probably be on the phone right know ordering some cakes. That's what powerful and professional design does! It captures you from the minute you land on the site!
Also, their use of gradients and textures just finish everything off brilliantly!
What do you think? Like their website? Don't like it? Tell is about it in the comments below...
---
Leave a Comment